Successful leaders have foresight
Being able to foresee or predict the future was an ability that made the prophets stand out in the Bible days. This gift of God made the prophets King Makers. Kings came and went but prophets remained until death. In fact, they were the spiritual and de facto physical guide of the nation.
Daniel outlived many kings because of this rare ability to see into the future and make accurate predictions. Joseph ascended the throne of Egypt because of his accuracy both in understanding and prediction.
So, the ability to anticipate the future through observation, intuition and inspiration is one quality that distinguishes successful leaders from those who are simply managing the day-to-day affairs of an organisation.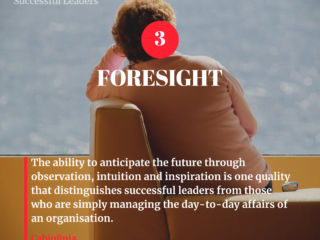 It's great to have a vision of where you are headed, but it's equally important to identify and understand the possible factors that can slow down or speed up its accomplishment. Foresight helps you plan adequately for the future.
The best way to predict your future is to create it. (Abraham Lincoln)
Make sure to share and check out other articles on leadership.