The poem that kept Nelson Mandela through 27 years in prison.
This is the famous poem that Nelson Mandela kept reciting while he was in prison for 27 years between Robben Island, Pollsmoor Prison and Victor Verster Prison. Born on 18 July 1918, Nelson Mandela spent 18 years in prison at Robben Island.
The writer of the poem is Poet William Ernest Henley (born in 1849 and died in 1903). He titled it Invictus, which means "unconquerable" or "undefeated" in Latin. It's said that William Ernest wrote this poem about his immortal or unconquerable soul after years of battling tuberculosis infection that affected his bone. He eventually lost his leg to the deadly disease but his spirit remained undefeated.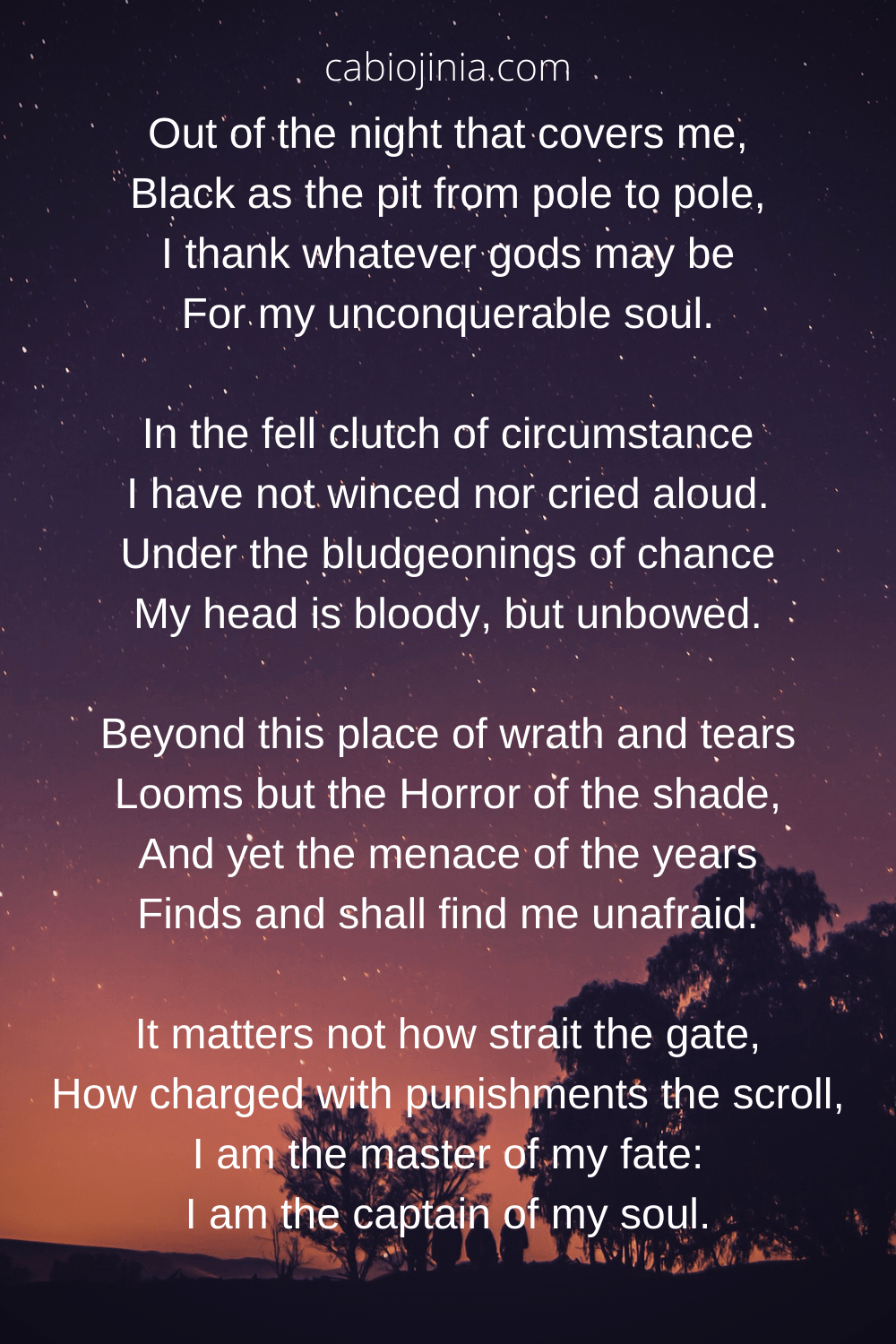 In his book, "Long Walk To Freedom", Madiba chronicles his experiences in one of the most brutal prisons in South Africa, Robben Island. He termed them "The Dark Years". Nelson Mandela was released from prison on February 11, 1990.
In 1993, Mandela won the Noble Peace Prize, together with F. W. de Klerk, who became president of South Africa in 1989 and ordered the release of Nelson Mandela in 1990 besides starting the dismantling of apartheid in South Africa.
One year later, after the lifting of the ban on ANC (African National Congress), Mandela's political party, the ANC won the majority of seats during South Africa's first free elections. Mandela was elected President of South Africa and remained in politics until 1999 when he retired.
Nelson Mandela died in December 2013.
So, the poem talks of courage in the face of death or difficult life situations that attempt to beat us down; it talks of resilience, the unconquerable nature of the mind; never giving in to the oppressor, never giving up the fight for what is right and just. It's also about not bowing your head when satan, life and evil persons try to strip you of your dignity.
The latter was certainly the case of Nelson Mandela, who while in prison refused to compromise his conduct nor become docile because of the threatening of the oppressor.
I am the master of my fate: I am the captain of my soul. (INVCTUS by Poet William Ernest Henley)
Out of the night that covers me,
Black as the pit from pole to pole,
I thank whatever gods may be
For my unconquerable soul.
In the fell clutch of circumstance
I have not winced nor cried aloud.
Under the bludgeonings of chance
My head is bloody, but unbowed.
Beyond this place of wrath and tears
Looms but the Horror of the shade,
And yet the menace of the years
Finds and shall find me unafraid.
It matters not how strait the gate,
How charged with punishments the scroll,
I am the master of my fate:
I am the captain of my soul.
Thanks for reading. I highly recommend the book LONG WALK TO FREEDOM by Nelson Mandela (not sponsored).